Three short years ago I wrote about my favourite coffee shop chain Bridgehead on the occasion of their 10th location in Ottawa. Well, clinic tomorrow, they'll be opening their 15th shop just off Preston Street. Think it's a fluke they've been so successful? We Beg to Differ.
More than a store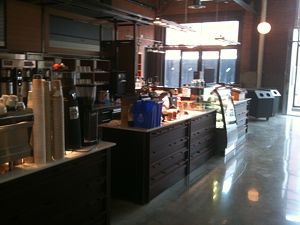 Sorry, when I say "shop", I'm using the wrong word. The new Bridgehead location, which you can see getting its final tweaks prior to public opening tomorrow, is far more than just another retail coffee shop. It's going to be the new head office for the Bridgehead chain and the new central warehouse to supply all 15 Bridgeheads across the urban core.
Plus it's big enough to have space for a community room, and – get this – a coffee education tasting room.
But an even bigger development for the chain: as of tomorrow, all coffee in all Bridgeheads across Ottawa will be roasted by Bridgehead right here in Ottawa. Because the new location marks Bridgehead's transition from being a retail reseller of other people's coffee to being a producer and innovator, selling their own coffee. And along with this, they are building an industrial team of experts who have already had to learn to produce large volumes every day.
Bridgehead 2.0
And you can really taste, smell. and see the difference. I tried one of the new Espresso roasts in a tasty, steaming cup of Americano today, and it not only tastes better, it looks better – with a real head of dense foam like you find on your cup in Europe.
One day early, I snuck into the new location and asked Bridgehead's Coffee Program Manager Ian Clark whether  that was just my imagination. Here's his geeky-but-fascinating answer, plus a look around the new roastery – including a glimpse of their new "Human Roaster" (in the still grab below – not kidding either).
Brand evolution
What becomes very obvious very quickly is that Bridgehead is evolving into a different kind of brand. Always a savvy purveyor of great coffee, they are now becoming a place where great coffee products are developed and refined.
What does this mean for Bridgehead? Well, this is where I'd love to hear from you. Have you tried the new roasts? Are you excited about visiting? Let me know in the comments!